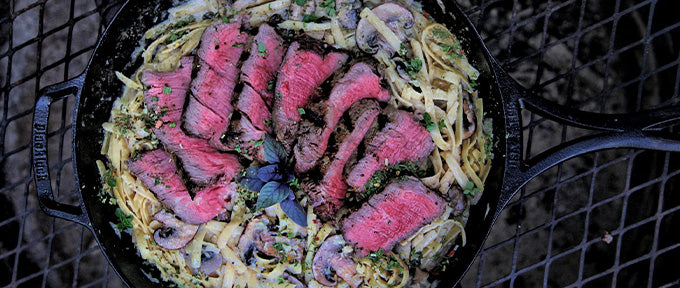 For the steaks:
16 ounces fettuccine pasta, prepared to al dente
2

 

Certified Piedmontese 8oz filet mignons, trimmed and rested at room temperature
Olive oil, plus additional for sauce and veg
Kosher salt and fresh ground peppercorn, plus additional for sauce and veg
1 head garlic, sliced in half
2-3 sprigs fresh rosemary and thyme
3 tablespoons unsalted butter
White Wine Sauce (prepared in same pan as seared steak)
1 small red onion, finely diced
1 teaspoon roasted garlic cloves, minced
1 tablespoon white wine vinegar
3/4 cup dry white wine (nothing fancy)
1/2 cup heavy cream
1/3 cup chicken stock
4 tablespoons unsalted butter
1 cup Parmesan cheese, grated or shaved
Veg and Garnish:
1 head of asparagus, fibrous ends trimmed
Fresh parsley and thyme, to garnish
8 ounces mini bella, button or cremini mushrooms
Preheat grill to high and warm cast iron saute pan and pot. Fill pot with water, bring to a boil and drop in linguine noodles. Close grill lid, stirring noodles occasionally, then remove when al dente, strain and set aside with a damp paper towel atop.
Meanwhile, season the filet mignon with olive oil, salt, pepper and garlic. Place the seasoned steaks directly into the heated cast iron pan for approximately 2-3 minutes untouched, with the grill lid open. When the steak easily pulls away from the cast iron flip meat over, toss in butter and herbs at head of the pan. Tilt pan head up from heat and repeatedly basted infused butter atop the steaks for 3-4 minutes, encrusting the steak exterior, building layer upon layer of flavor, until the internal temperature reads 130F (medium-rare). *Flip steak back over and continue the baste if temperature is not at 130F after 3-4 minutes on the second side. Remove steaks from the cast iron and place over a cooling rack. Rest for 5-7 minutes before carving. Season additionally to taste and serve.
Toss asparagus and mushrooms into the same cast iron pan you prepared the steak for a quick and hot sautee in all that fatty beef flavor. Remove when the mushrooms are golden in color and the asparagus is just wilted and charred to your liking.
Last, but not least, in same pan used for preparing steak and veg, begin building your sauce. Add onion and sautee until translucent, add garlic and cook down until just golden and fragrant. Add in cream, chicken stock, wine, vinegar, and butter to deglaze the pan, ensuring to scrape up all browned bits from the steak and veg. Fold in Parmesan cheese, then season to taste. After 5-7 minutes, add the prepared pasta to the sauce and fold together. When you can run a wooden spoon through the sauce and it's thick enough to leave a line of separation in the bottom of the pan, you are finished.
To plate, top 6-8oz of pasta with charred asparagus and 3-4 slices of filet mignon. Splash with olive oil. Season additionally, as needed. And, garnish with fresh herbs. Serve!