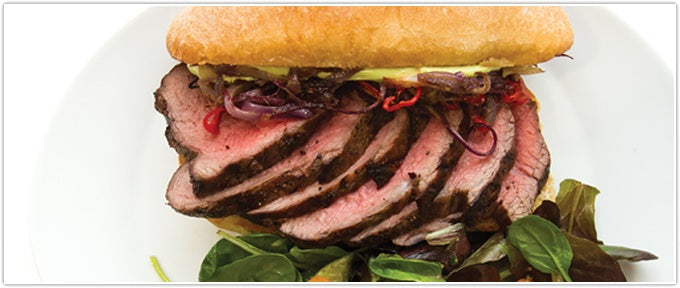 1 Certified Piedmontese tri-tip roast
½ sweet onion, sliced
3 garlic cloves, sliced
3 Calabrian chilis, chopped*
1 tablespoon kosher salt
1 teaspoon black pepper
Zest of 1 lemon
¼ cup extra-virgin olive oil
*Calabrian chilis are a small, red, medium-spiced pepper. Look for them jarred in the condiment aisle, at specialty food stores, or online.
Combine all ingredients in a large, sealable plastic bag. Transfer the roast to the bag, seal, and shake until roast is completely covered. Allow the steak to marinate for at least one hour or overnight.
Prepare a grill with both direct heat (450°F) and indirect heat (350°F) areas. Sear the tri-tip on all sides over direct heat. Transfer to indirect heat, and cook to an internal temperature of 125°F. Rest at least 15 minutes prior to serving. Slice against the grain and serve with your favorite sauce or on sandwiches.