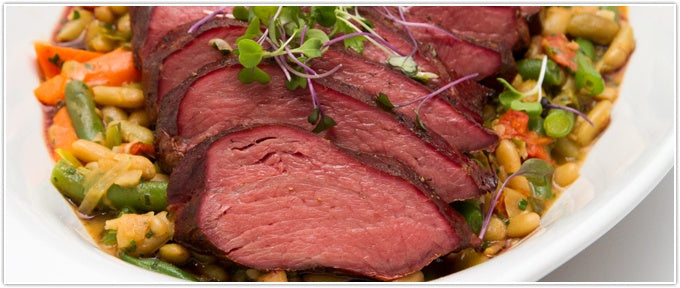 1 (32-ounce) Certified Piedmontese tri-tip roast
Canola or olive oil, as needed
Kosher salt
Fresh cracked black pepper
Heat a smoker to 150°F*. Rub the tri-tip with oil and generously season with salt and black pepper. Smoke with hickory chips slow and low for about 3 to 4 hours, or until the internal temperature is about 125°F. Let rest for 10 minutes before slicing and serving.
*To smoke on a gas grill: Invest in a smoker box, or make your own smoker box by adding your choice of woodchips to a foil pan; cover with heavy-duty aluminum foil and poke small holes in the foil to allow the smoke to escape. Transfer the pan to the grates over an unlit burner (preferably in the back corner of the grill) and run the grill at high heat until smoke appears. Set grill to desired temperature to prepare for cooking.