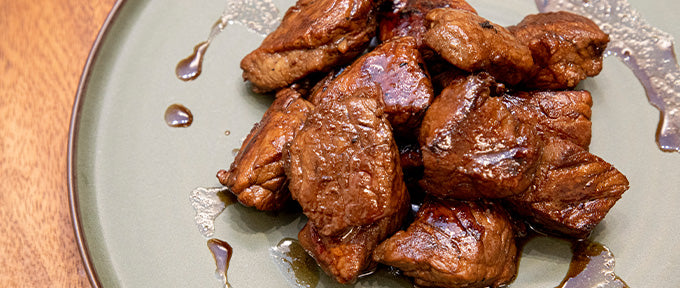 1 package

 

Certified Piedmontese Steak Tips
¼ cup Worcestershire sauce
¼ cup soy sauce
2 Tbsp. balsamic vinegar
¼ cup plus 2 Tbsp. honey
½ cup plus 2 Tbsp. bourbon/whiskey
Olive oil
Salt to taste
Combine Worcestershire sauce, soy sauce, balsamic vinegar, ¼ cup honey, and ½ cup bourbon in a bowl or zip top bag. Add the steak tips and refrigerate overnight, or at least 4 hours.
Heat a heavy based or cast iron skillet to medium-high heat. Pour in some Olive Oil. Drain the excess marinade from steak tips and discard. Place steak tips in the hot skillet. Cook 5-7 minutes until color develops.
Mix remaining bourbon and honey in a small bowl, then pour over steak tips to glaze. Continue cooking until glaze has caramelized and darkened to a rich brown color. The tips should have enough salt from the soy sauce, but you can taste them at this stage and add more salt if needed. Remove from heat, allowing 2-3 minutes to cool, then serve.