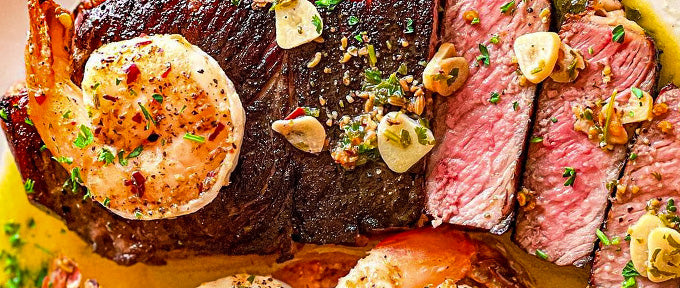 Have you ever had to face the indecisiveness of choosing between seafood or meat for dinner? Why pick one when you can have both in a classic surf 'n' turf? The trend started in 19th-century America where show restaurants known as "lobster palaces" combined lobster and steak in one dish. Lobster is the "traditional" surf in the equation, but over the years, prawns, shrimp, squid, and scallops have all become beloved "surfing" options. Typically grilled, Certified Piedmontese elevates the recipe further with a simple garlicky and zesty sauce you can't get enough of. Take your taste buds on a thrill ride with this Lemon Garlic Butter Surf' n' Turf! If you're partial to spiciness, add more chili flakes to kick up the flavor dial.
INGREDIENTS
6 oz large shrimp, peeled, deveined, tail-on (about 12-15 count)
2 cloves garlic, sliced
1 tsp chili flakes
3 tbsp vegetable or canola oil (just enough to coat the bottom of your pan)
½ cup dry white wine
1 large lemon, juiced
4 tbsp butter
1 bunch fresh parsley, chopped (about 2 oz)
Kosher salt, to taste
Seasoning for Shrimp:
1 tsp garlic powder
1 tsp kosher salt
1 tsp Italian seasoning
½ tsp cayenne pepper
Seasoning for Steak:
Kosher salt and black pepper sprinkled over both sides
INSTRUCTIONS
Pat dry shrimp and New York Strips thoroughly with a paper towel. Season the shrimp and steak for at least 10 minutes before cooking.
Heat a large cast-iron skillet over medium-high heat. Once it's starting to smoke, add 2 tbsp vegetable oil and swirl the skillet to coat.
Add the steaks to the pan and sear for 3 mins on both sides. Using tongs, turn the steaks on their sides to render the white fat and sear the edges too, about 30 seconds. When their internal temperature is 10 F from your desired doneness, remove steak from the skillet and let rest on a warm plate.
Reduce the heat to medium and melt 2 tbsp butter in the pan before adding the seasoning shrimp. Spread the shrimp out in a single layer. Sauté shrimp on both sides until pink and opaque (completely cooked through), about 1 min on each side. Remove from skillet and set aside.
Clean your pan or use a new one. Heat pan on medium heat and add 1 tbsp vegetable oil. Add the sliced garlic and chili flakes, stirring until the garlic turns slightly golden, about 1 min. Melt 2 tbsp butter and swirl white wine into the pan, let it reduce, about 2 min.
Stir in the lemon juice and fresh chopped parsley, then toss in the fresh chopped parsley. Immediately remove skillet from heat.
Return shrimp and steak to the pan and coat thoroughly with the lemon garlic butter sauce, spooning it over the shrimp and steak.
Serve your surf 'n' turf drizzled liberally with more sauce for a delicious lunch or supper!