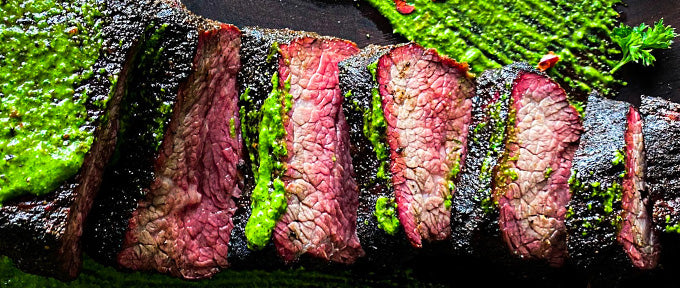 Reverse-Searing thicker cuts of beef make for a simple and flavorful approach to ensure accuracy and performance. Slowly and smokingly, bringing the internal temperature of your beef to 15 degrees below your final desired temp is vital here. Finishing the beef on high heat will allow you to add that delicious crust everyone expects to see on a premium cut of beef. Add a zesty burst of flavor from this green herb chimichurri will have your dinner table swooning over your cooking and flavor-filled prowess!
INGREDIENTS
1 Certified Piedmontese Tri Tip
Chimichurri (Combine the following:)
½ cup fresh chopped parsley
½ cup fresh chopped cilantro
1/4 cup red wine vinegar
1/2 cup extra virgin olive oil; add more as necessary or preferred
4ea white anchovies, minced (optional)
¼ cup capers, rough chopped
1 tsp of red chili flakes (depending on your heat preference)
Zest and juice of 1 lemon
1 tbsp honey
Salt and Pepper to taste (1 tsp salt and ½ tsp of pepper to start)
Directions
Tri Tip Reverse Sear
1) Season your tri-tip with your favorite steak rub or simply a good dusting of salt and pepper.
2) Smoke or bake at 225'F degrees until internal temperature hits 120'F degrees. This could take around an hour, depending on the starting temperature of your roast.
3) Remove from the smoker or oven and sear the tri-tip on a high heat grill for 2-3 minutes per side or until you heat 130'F degrees. To avoid overcooking, you may need to keep the smaller end of the tri-tip off direct heat.
4) Pull off the grill and let rest for at least 10 mins.
5) Slice against the grain.
6) Top or paint your tri-tip with your chimichurri and serve immediately!
Chimichurri
1) Using a blender or mortar and pestle, blend the ingredients.
2) Taste, and season as necessary.
3) Keep cold!