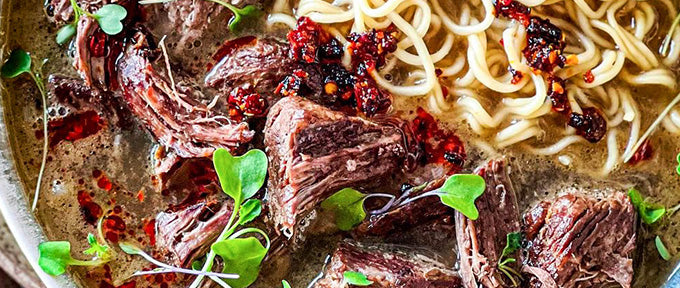 Fabulously succulent and tender short ribs, sweet, slow-simmered onions, and the heavenly sluuurp of ramen noodles – this recipe is a delicious fusion of French Onion soup and Asian-style beef broth with the shredded Certified Piedmontese Boneless Chuck Short Ribs as the star of the dish. Using bone-in short ribs would also add more body to the soup, but boneless short ribs make for a much faster cook time, turning this recipe into a more convenient lunch or weeknight meal.
Use yellow onions for their mild sweetness when caramelized. White onions would be even sweeter, and red onions would have a more robust onion flavor that could be slightly bitter.
Ingredients
2 tbsp avocado oil (or another oil with a high smoke point)
2 lbs Certified Piedmontese Boneless Chuck Short Ribs
3 tbsp Chinese five-spice powder
*8 garlic cloves, minced to paste
*1 4" piece of ginger, minced to paste
1 cup Asian lager (or any effervescent, light-bodied beer)
½ cup low-sodium soy sauce (or to preferred taste)
8 medium yellow onions, 1 chopped, 7 thinly sliced
6-8 portions of dried ramen noodles
*The garlic and ginger are minced with a blender in this recipe, but if you don't own one or don't mind biting down on larger pieces of garlic and ginger, simply slice both into thin slices.
Garnish/Condiment
**Chinese Chili Crisp Sauce (or substitute with chili oil)
**Only add the chili crisp if you want it to be spicy. The original broth is just as perfect.
Sliced onions to be caramelized
Instructions
Season short ribs with kosher salt and Chinese five-spice powder, rubbing into an even layer on the short ribs.

Heat oil over medium-high heat in a large Dutch oven or a heavy pot. With a pair of tongs, place the seasoned short ribs into the Dutch oven with enough space between each piece, working in batches if needed.

Turn the beef every 2-4 minutes until they are well-browned and slightly crispy on both sides. Transfer browned ribs to a bowl or plate as you go.

Discard the excess oil in the Dutch oven before returning it to medium-high high on the stove. Ensure there is only enough oil to cover the bottom of the Dutch oven thinly.

Add the chopped onions into the Dutch oven, occasionally stirring with a wooden spatula, until they soften and start to brown, about 4 minutes. Add the garlic and ginger paste, continue to stir until fragrant, about 3 minutes. Add star anise, cinnamon, cloves, peppercorns, and coriander seeds and, stirring often, about 1 minute.

Add the lager, scraping up any browned bits from the bottom of the pot. Simmer until almost completely evaporated, about 3 minutes.

Return beef to pot and add soy sauce and 12 cups water. Bring to a boil, then reduce heat to medium-low and cover with a lid. Simmer until meat is spoon-tender, about 45 minutes to 1 hour.

In the meantime, melt the butter in another large pot on medium heat. Add sliced onions and cook, stirring often until they caramelize, turning deep golden and soft, about 30 to 45 minutes. Be sure not to cook them too quickly over too high heat, as burnt or scorched onions would turn your soup bitter. Turn down the heat to low or take it off the stove for the next step.

Remove beef from the broth and let it cool. Using gloved hands or a pair of forks, tear the ribs into bite-size pieces.

Strain the broth through a fine-mesh sieve, so only the clear stock remains. Discard any solids. Add the bite-sized beef and clear broth into the pot with the caramelized onions.

Bring the onions, broth, and beef to a boil before reducing the heat to low, and simmer until flavors have melded, about 30 minutes. Add rice vinegar, taste, and adjust to taste with more vinegar or soy sauce. Turn off the heat.

Cook noodles according to package instructions, testing individual strands like spaghetti to check softness. Divide the ramen noodles among bowls before ladling soup into the bowls. Make sure each bowl gets enough short ribs and onions.
Optional: Garnish with microgreens and add chili crisp sauce for an even stronger kick of flavor!
Beef broth before straining it. The beef broth from the short ribs is the essence of this recipe. If you're not planning to serve a crowd, use less sliced onions in the second pot, and don't use up all your broth in this recipe. Instead, the soup base freezes beautifully and will last for up to 3 months to be defrosted for easy weeknight meals.