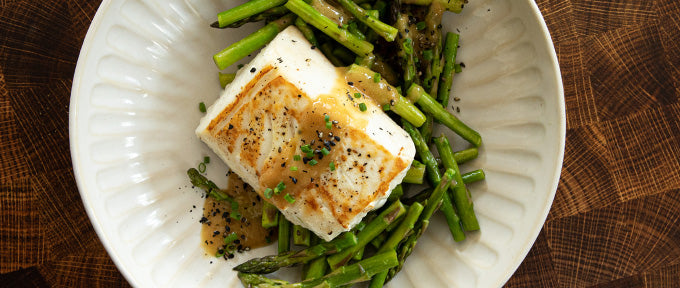 This Halibut with Miso Butter & Asparagus recipe comes together perfectly every time! This delicious halibut could pass for a fancy meal, but it's surprisingly easy to make. In no time, dinner is ready. It tastes amazing, thanks to the miso butter, but it's healthy, too! If you're on the fence about trying fish, this might just be the recipe that hooks you. Try it out for an easy dinner or a meal to impress friends and family.
INGREDIENTS
2 Tablespoons of Butter (melted)
1 Tablespoon of White Miso (paste)
1 Tablespoon of Fresh Lime Juice
2 Tablespoons of Cooking oil (divided)
2 6oz Wixter Halibut Filets
2 Teaspoons of Cilantro (chopped)
1 Pound of Asparagus (trimmed and cut into 2-3 pieces)
Salt to Taste
INSTRUCTIONS
STEP 1: In a small saucepan melt butter over low heat and then add miso and lime juice, whisking until smooth, and set aside off heat.
STEP 2: In a skillet heat 1 tablespoon of oil over medium-high heat.
STEP 3: Cook asparagus with a pinch of salt stirring until cooked al dente for about 4 minutes.
STEP 4: Remove from pan, add the remaining tablespoon of oil, and cook halibut for 4 minutes per side depending on thickness.
STEP 5: Plate halibut over asparagus and pour miso butter sauce over the top.
STEP 6: Garnish with chopped cilantro.