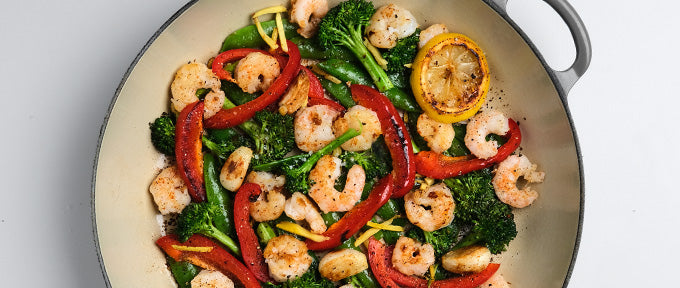 INGREDIENTS
1 bag of uncooked Wixter American Shrimp
3 T Vegetable oil
3 Garlic cloves, minced
1 c Broccoli florets
1 Bell pepper, diced
1½ c Snow peas
1 T Ginger, minced
1 tsp. Paprika
1 lb. Shrimp rinsed and dried
3 Bird's eye chilies (or other hot chilies), sliced
1 Lemon, cut into wedges
Salt and pepper to taste
DIRECTIONS
STEP 1: Heat the oil in a large wok or skillet over medium heat.
STEP 2: Add the garlic, stirring until fragrant (about 30 seconds).
STEP 3: Add the broccoli and cook for about 1 minute, stirring.
STEP 4: Add the bell pepper, snow peas, and ginger. Cook for about 2 minutes, stirring every 30 seconds.
STEP 5: Push the vegetables to the sides of the pan and add the shrimp to the middle.
STEP 6: Season the shrimp and vegetables with salt and pepper.
STEP 7: Cook the shrimp for 1 minute, then flip and cook for one to two more minutes, until opaque. Stir everything together gently until combined.
STEP 8: Serve with bird's eye chilies, and lemon wedges, and enjoy!