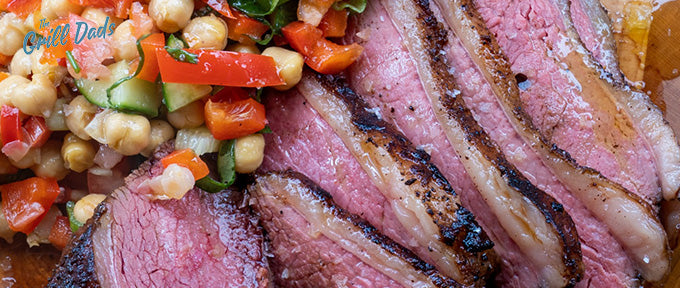 INGREDIENTS
1 (2 to 21/2 pound) Picanha steak
Salt Pepper + Three Chiles, for seasoning
1/2 large English cucumber, diced
1 large red pepper, diced
2 medium Roma tomatoes, diced
Kosher salt, for seasoning
1 (15 ounces) can garbanzo beans, drained
1 clove of garlic minced
1/2 cup fresh basil leaves, thinly sliced
1/4 cup red wine vinegar
3 tablespoons olive oil, plus more for drizzling the steak
DIRECTIONS
1) Pat your picanha steak down with paper towels. Season the steak all over with Salt Pepper + Three Chiles. Set the steak aside at room temperature for 1 hour.
2) Set your grill or smoker for indirect heat at 225 º F . Smoke the picanha steak for 75 to 90 minutes or until the internal temperature reaches 128ºF.
3) While the steak cooks toss together the cucumber, red pepper, tomatoes, garbanzo beans, and basil. Season generously with kosher salt and dress with red wine vinegar and olive oil. Chill while you finish up the steak.
4) Remove the steak from the grill to a baking sheet to rest. Crank the heat up to 500 degrees F.
5) Return the steak to the grill and sear, turning every few minutes to prevent flare-ups from that juicy fat cap. When the steak is darkly seared and reaches an internal temp of 130 degrees F, remove it from the grill to rest for 10 minutes.
6) Use a sharp knife to thinly slice the steak across the grain and serve with the tomato cucumber salad