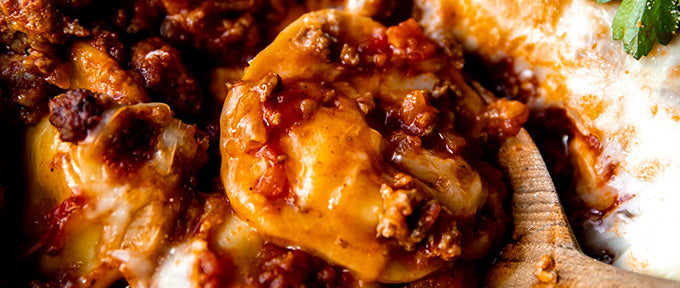 Ravioli take the place of traditional lasagna noodles to make this creamy, saucy ravioli lasagna. The ravioli is layered with rich ricotta cheese and herbs, bright tomato sauce, and melted mozzarella. Ravioli lasagna is a versatile, simple option for all types of meals: weeknight, date night, or family dinner. It's hassle-free and comforting to eat. Try meal prepping for an easy lunch option!
INGREDIENTS
1 small onion, diced
2 tablespoons extra virgin olive oil
1 pound Certified Piedmontese Grass Fed, Grass Finished Ground Beef
1 tablespoon chopped garlic
½ teaspoon salt
¼ teaspoon pepper
1 tablespoon Worcestershire sauce
28 oz marinara sauce
15 oz whole milk ricotta cheese
½ cup grated parmesan cheese
1 teaspoon dried thyme
20 oz refrigerated cheese-stuffed ravioli
16 oz mozzarella cheese, shredded
INGREDIENTS
1) Heat the olive oil in a large skillet over medium heat. Add in the onion and sauté for several minutes or until softened. Add in the ground beef and break it apart and brown. Add in the garlic, Worcestershire sauce, salt, and pepper, and brown for several more minutes until the ground beef is completely cooked and browned.
2) Pour in the marinara sauce and stir to combine. Reduce the heat to low and simmer the sauce for 5 minutes.
3) Preheat the oven to 400 degrees.
4) Mix the ricotta cheese, parmesan cheese, and thyme in a small bowl.
5) Start building the lasagna in an oversized 9×9 pan (or 3-quart equivalent) by adding a thin layer of sauce on the bottom of the pan so that the ravioli don't stick.
Layer 1/2 of the ravioli on top of that.
Then, evenly spread all of the ricotta mixtures on top of the ravioli.
Sprinkle 1/2 cup of the shredded cheese on top of the ricotta layer. Next, add half of the meat sauce on top.
Top with the remaining ravioli, another 1/2 cup of shredded cheese, and then the remaining meat sauce.
Sprinkle the remaining cup of shredded cheese on top of the prepared ravioli lasagna.
6) Loosely cover with foil, being careful not to have it touch the cheese, and bake covered for 35 minutes.
7) Uncover the ravioli lasagna, turn the broiler on high and broil the top of the lasagna until the cheese is golden brown and bubbly about 2-3 minutes.
8) Serve with chopped fresh parsley, basil, and grated parmesan cheese, and enjoy!
Pairing: 5-7