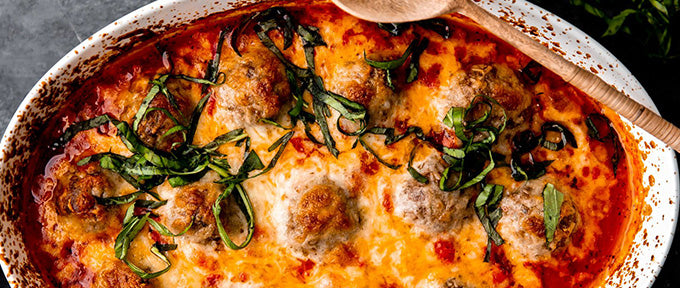 Cheesy Baked Meatballs are every bit comforting and delicious. Ground beef is rolled together with herbs and spices, nestled into marinara sauce and baked until tender. Top with a generous amount of mozzarella cheese for the ultimate Cheesy Baked Meatball!
1 egg
1 tablespoon Worcestershire sauce
2 teaspoons seasoned salt
2 teaspoons dried parsley
24 oz pasta sauce of choice
8 oz mozzarella cheese, shredded
Preheat your oven to 400 degrees. In a large bowl, add the ground beef, egg, Worcestershire, seasoned salt and dried parsley, Use your fingers to gently combine together, being careful to not over-mix.
Pour the pasta sauce into the bottom of a 9×13 baking dish (or one of equivalent size). Use a large cookie scoop (roughly 5 1/2 tablespoons) to scoop the ground beef mixture into meatballs. Gently roll them in between your palms to smooth them out before placing them into the prepared baking dish with the pasta sauce.
Bake for 30 minutes. Then, evenly top the meatballs with the shredded mozzarella and bake for another 10-12 minutes, or until the cheese is melted and bubbly.
Garnish with freshly chopped basil if desired and enjoy!
*Note: If you are concerned about the meatballs splattering in your oven while baking, they can be covered with foil for the first 30 minutes of baking. Keep in mind that they won't be as browned but that is okay. Remove the foil, top with the cheese and bake un-covered for the remaining time.