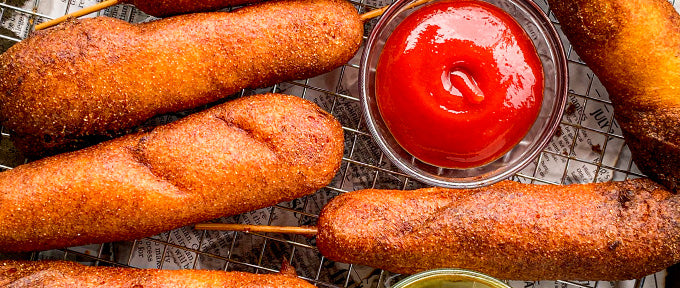 INGREDIENTS
6 Certified Piedmontese Junior Steak Dogs
1 ½ cups fine yellow corn meal
1 ¼ cups AP flour
¼ cup white sugar
1 TBSP baking powder
¼ tsp kosher salt
1 ¾ cups buttermilk
1 large egg
1 TBSP oil
1 TBSP honey
Optional: 1 tsp cayenne pepper or use hot honey for spicy corndogs.
Frying Oil: Depending on the size of your pot, you will want at least 3in of oil in the pan.
**You can also cut your junior hot dogs down into 1-inch pieces, following the same recipe, and make some tremendous mini corn dogs!
DIRECTIONS
1) Dry Hot Dogs with paper towels to help the batter to stick to your hot dogs. Meanwhile, bring canola or peanut oil to 350°F in a cast iron pan, dutch oven, or large pot.
2) Skewer hot dogs with kabob sticks and make sure the length fits your pot. Simply cut or break off excess stick length.
3) Whisk together dry ingredients: cornmeal, flour, sugar, baking powder, and salt.
4) Whisk together buttermilk, egg, olive oil, and honey.
5) Pour and mix wet ingredients into dry ingredients and whisk until blended.
6) Batter the corn dogs to cover the hot dog completely. I find it easier to pour the batter into the tallest cup you have, dip the hot dogs down the middle of the cup, spinning the hot dogs around as you pull it back out of the cup.
7) Set the corn dogs into the fry very gently, and Fry 2-3 at a time at 350°F for 3 minutes until golden brown.