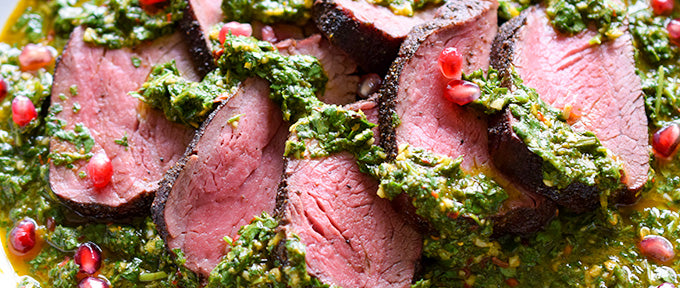 INGREDIENTS
Certified Piedmontese Tenderloin Roast (Filet Mignon is cut from the tenderloin*)
Chermoula:
Blitz together in your food processor
1 bunch of Fresh parsley leaves
1 bunch of Fresh cilantro leaves
2 Garlic cloves
1/2 tsp Ground coriander
½ tsp of ground cumin
½ tsp Red pepper flakes (added after you blitzed it)
½ tsp smoked Paprika
1 tbsp fresh ginger
tsp Kosher salt
Juice from 1 lemon (add the zest after blitzing)
¼ cup of EVOO
DIRECTIONS
1) Season and smoke your tenderloin at 225 F until hits 125 F internally.
2) Then sear, let rest
3) Prepare Chermoula by combining the ingredients above.
4) Pair with Tenderloin/Filet Mignon Serve with Chermoula and go!
Your Chermoula can be a great marinade for other proteins and can last for 2-3 days in an air-tight container in your fridge.