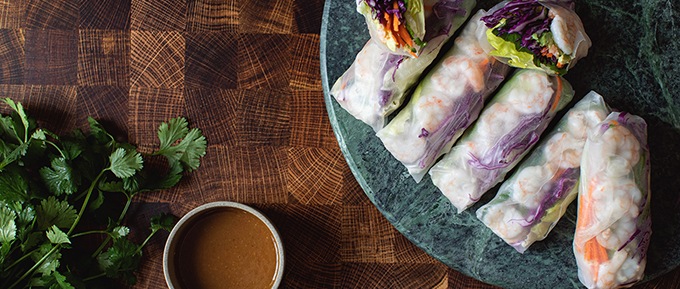 Found on one of our partner website Wixter
Ingredients
Shrimp Spring Rolls
12 oz Wixter American Shrimp

10 Rice Paper Wraps 

10 small leaves Bib Lettuce

1 cup Purple Cabbage, thinly shredded

1 cup Carrots, julienned

1 Avocado, sliced

20 fresh Mint leaves 

20 fresh Basil leaves 

20 sprigs fresh Cilantro 
Peanut Dipping Sauce
1/2 cup Coconut Aminos 
1/4 cup creamy Peanut Butter 
1/4 cup Water 
1 tbsp Rice Wine Vinegar 
Instructions
Whisk together the peanut sauce ingredients until smooth and set aside.

In a large saucepan bring 6 cups of water to a simmer.

Add the shrimp and simmer for 2 minutes. Strain and place on paper towel to dry. 

When the shrimp have cooled, slice them in half so that they lay flat. (optional) 

Fill a pie pan or large bowl with water that is big enough for the rice paper rounds to fit. 

Submerge a rice paper round for 10-15 seconds flipping over once and then lay flat on a cutting board. The rice paper will still be a bit stiff but it will continue to soften as you roll. 

Place the lettuce on the bottom third of your rice paper and then layer 1 tablespoon each of the cabbage and carrots. Lay one slice of avocado and then layer two pieces each of the herbs. Top with three shrimp pieces. 

Carefully, tightly roll the paper away from you and fold the sides in an envelope pattern until it's closed completely.

Repeat with remaining wrappers. Eat immediately. Serve with peanut dipping sauce. Enjoy!