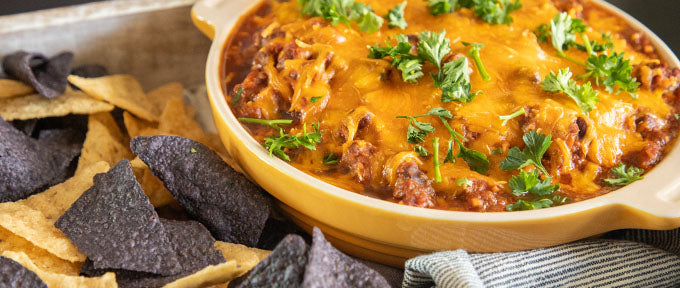 Ingredients
2 teaspoon oil
2 garlic cloves, minced
1 onion, finely chopped
2 tablespoons taco seasoning
14 - 16 oz can refried beans
10 oz can Enchilada sauce of choice (I use Medium Mild Old El Paso)
14 oz black beans, drained
2 cups grated Montery Jack or Cheddar Cheese
Cilantro, for garnish
Instructions
Preheat oven to 350F.

Cook your Certified Piedmontese Ground Beef.

Add taco seasoning and cook until beef is browned.

Mix all the rest of the ingredients, including half of the cheese, in a bowl.

Transfer to a heatproof bowl.

Top with the rest of the cheese then bake for 15 minutes or until bubbly and golden.

Serve warm with corn chips, garnished with cilantro if desired!