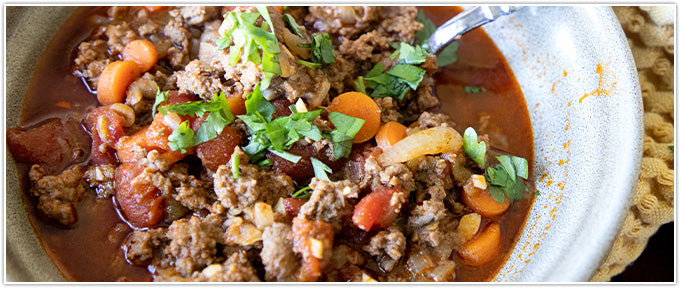 Serves 4-6
1 tablespoon avocado oil
1 medium vidalia onion
3 medium carrots diced
1/4 cup diced garlic
6 tsp ground cumin (2 tablespoons)
2 tsp chipotle chili powder
2 tbsp smoked paprika
1 can tomatoes, diced (8 oz)
1 can green chiles, mild (7 oz)
2 tsp sea salt (optional)
1 tsp of ground black pepper
1. Heat a heavy bottomed lidded stock pot over medium-high heat. When the pan is hot, add avocado oil.
2. Add onions, carrots and garlic and sauté for 5 minutes.
3. Next, add ground meat, cumin, chipotle chili powder and smoked paprika.
4. Cook for 8-10 minutes stirring occasionally so as to not burn ingredients.
5. Pour in tomatoes, green chiles and sea salt.
6. Cover and simmer on low for 90-120 minutes, stirring occasionally.