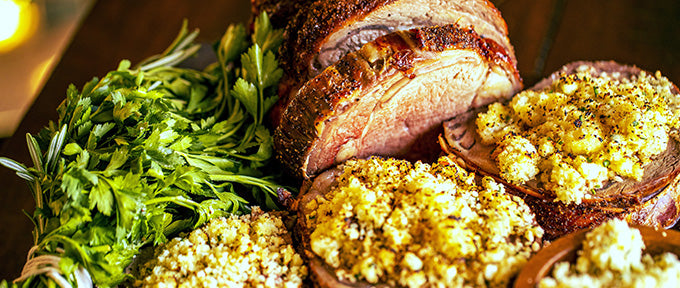 Oven Roast Prime Rib with blue cheese and horseradish crumble! Prepare your prime rib however you want – this dish is about the crumble and a perfect topping for anyone at the dinner table. Mix Creamy Horseradish, mayo, blue cheese, butter, chives, S&P, panko bread crumbs, and chili flakes. Layer it on top of your cuts of prime rib and get it crusted! I used a blow torch here, but getting slices onto a sheet pan and under your broiler works well!
INGREDIENTS
Certified Piedmontese Prime Rib
1cup Panko Bread Crumbs
4oz Blue Cheese Crumbles or blue cheese dressing *If you are using crumbles, I also add 2 tbsp mayo.
1 tbsp chopped chives
4 tbsp softened butter
1 tsp chili flakes
Pinch of Salt and pepper
DIRECTIONS
Prime Rib
1) Liberally season your prime rib. It's hard to overseason a prime rib roast.
2) On a roasting rack or sheet pan with a cooling rack – roast your prime rib for 15 minutes at 500F.
3) Back down the heat to 325F and roast until it is 10F below your desired temp. You are likely looking at somewhere around 10-12 mins an lb.
4) Let your prime rib rest for 20 minutes before slicing. Top generously with the blue cheese crumble and torch/broil until golden and bubbly.
Blue Cheese Crumble
1) Combine all ingredients to make Blue Cheese Crumble.