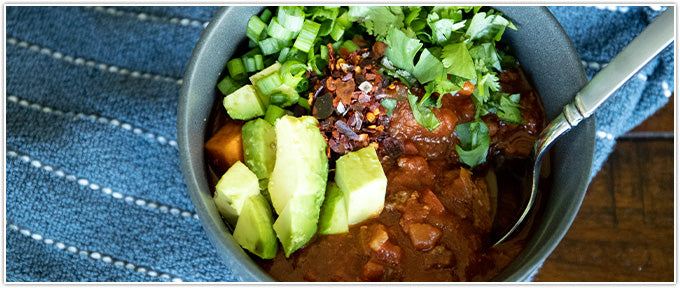 2 Tbsp olive oil
1 large sweet onion, diced to 1/2"
2 stalks celery, diced to 1/2"
1 medium red bell pepper, diced to 1/2"
1 medium green bell pepper, diced to 1/2"
1 large sweet potato, (about 12 oz), diced to 1/2"
2 jalapenos, seeded and minced
4 cloves garlic, minced
2 Tbsp tomato paste
2-4 Tbsp chili powder
1 Tbsp cumin
1 Tbsp oregano
1 Tbsp paprika
1 tsp sea or kosher salt
1 14.5-oz can crushed tomatoes
2 c beef broth
1 bay leaf
Heat a 6-quart pan over medium high heat. Add oil and heat until it shimmers. Add onion, celery, and bell peppers and toss to coat in the fat. Cook, stirring occasionally, until the vegetables soften and the onions turn translucent, 7-9 minutes. Add ground beef and cook, stirring with a wood spoon to break into pieces, until the beef is no longer pink, 3-4 minutes. Add jalapeno, garlic, tomato paste, spices (chili powder, cumin, oregano, paprika) and salt. Stir continuously with a wood spoon until the tomato paste is worked into the vegetables and the spices are toasted and very fragrant, 2 minutes.
Add crushed tomatoes, beef broth and diced sweet potato, then stir all ingredients together. Top with a bay leaf. Increase heat to high to bring the liquid to a boil. Reduce heat to low and simmer, uncovered, 35-45 minutes until the chili is thick and the flavors have melded. Stir occasionally to prevent scalding. Taste for flavor and seasoning - simmer an additional 10 minutes if flavors have not fully developed, and/or adjust with additional salt as necessary.
Ladle into bowls and top with your favorite garnishes. Store leftovers in a sealed container in the fridge for up to 5 days. Freeze in an airtight container for up to 3 months.