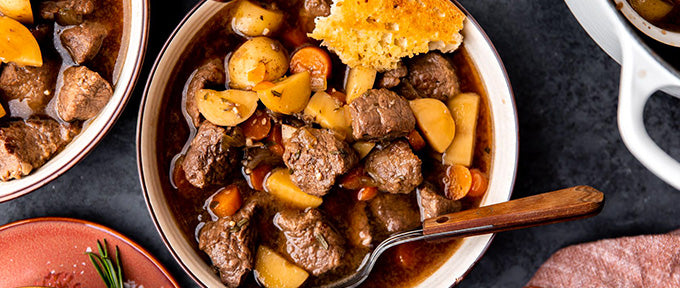 8 servings
Red Wine Beef Stew is a scrumptious stew loaded full of deep, decadent flavor. Pieces of beef stew meat are simmered low and slow in an herby broth of red wine and beef stock with potatoes and carrots. Each spoonful is comforting and heart-warming!
2 pounds Certified Piedmontese Grass Fed, Grass Finished Beef Stew Meat
2 tablespoons flour
2 tablespoons extra virgin olive oil
1 onion, diced
1 tablespoon garlic, chopped
1 cup red wine
(2) 32 oz containers beef stock
2 cups baby carrots, cut into 1/4 inch circles
1 pound baby Yukon gold potatoes, quartered
1 tablespoon fresh rosemary, chopped
1 tablespoon fresh thyme, chopped
1 1/2 teaspoons salt
Pat the beef stew meat dry with a paper towel and evenly coat with the flour. Heat the olive oil in a Dutch oven or soup pot over medium heat. Working in batches, sear the beef on all sides until golden brown. Set the beef aside.
Add in the diced onion and garlic and sauté for a minute or so until fragrant. Pour in the red wine to deglaze the pan. Use a wooden spoon to scrape all the browned bits off the bottom of the pan. Pour in the beef stock and bring to a simmer.
Add the beef back into the pot along with the carrots, potatoes, rosemary, thyme and salt. Bring the stew back to a simmer.
Reduce the heat to low, cover with a lid and allow the soup to simmer covered on low heat for about 2 hours, or until the beef is tender.
Serve with garlic bread and enjoy!