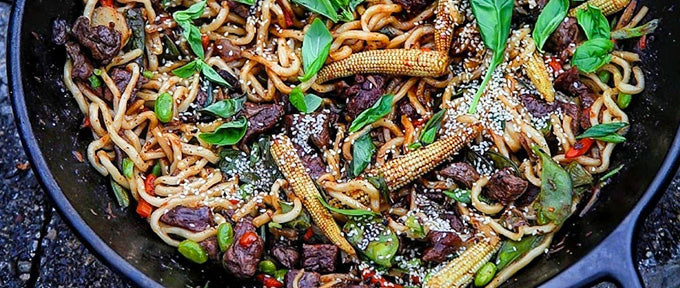 INGREDIENTS
2lbs Certified Piedmontese stew beef, cubed
Olive oil
Kosher salt and black peppercorn to taste
Stir-fry style vegetables with red chiles
Thai wheat noodles
1 tablespoon roasted minced garlic
1 tablespoon grated ginger
1/2 cup soy sauce
1/4 cup mirin
2 tablespoons sesame oil
2 tablespoons rice wine vinegar
Fresh basil and green onion, chopped
White sesame seeds to garnish
INGREDIENTS
Rest the Lodge Cast Iron wok atop a bed of smoldering hardwoods until piping hot (note: you could easily follow the same recipe by placing the cast iron cookware over your stovetop).
Two pounds of stew beef was diced, dressed in olive oil, and simply seasoned, seared hard to tender, rare perfection, then pushed to the exterior walls of the wok, and the veggies were loaded in, frying in the rendering beef fat.
Once cooked, a pile of Thai-style whole wheat noodles was added into the mix and folded with the beef and veggies, along with two handfuls of freshly harvested basil, green onion, and thyme.
For the sauce, I combined the pan drippings with roasted minced garlic, grated ginger, sesame oil, rice wine vinegar, mirin, and an umami bomb of bourbon barrel-aged soy sauce. I allowed the sauce to caramelize and thicken while the beef, veggies, and noodles finished cooking.
This feast was garnished with cracked black peppercorn and white sesame seeds, then served family-style for a crowd. And, thankfully, the kids left me a few scraps to smash!