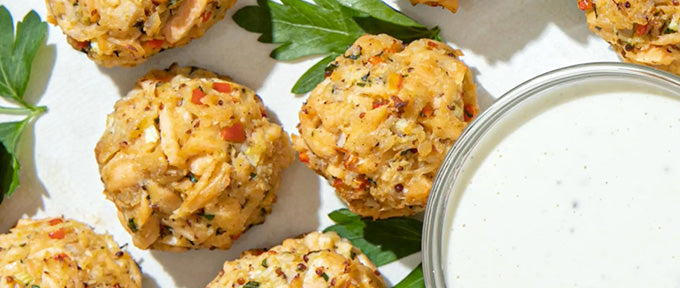 INGREDIENTS
SALMON CAKE INGREDIENTS
4 Wixter Norwegian Salmon Fillets
1/4 Cup of Shallot (Finely Minced)
1/4 Cup of Celery (Finely Minced)
1/4 Cup of Red Bell Pepper (Finely Minced)
1/4 Cup of Parsley (Minced)
1 Teaspoon of Salt
1/2 Teaspoon of Black Pepper
1 Teaspoon of Old Bay Seasoning
2 Tablespoons of Lemon Juice
1 Large Egg (Beaten)
1/2 Cup of Mayo
2 Tablespoons of Grainy Dijon Mustard
1/2 Cup of Panko Bread Crumbs
LEMON AIOLI INGREDIENTS
2 Tablespoons of Lemon Juice
1/2 Cup of Mayo
1 Garlic Clove (Grated)
Salt & pepper to taste
INSTRUCTIONS
STEP 1: Preheat the oven to 400° and line a baking sheet with parchment paper.
STEP 2: Place salmon fillets on a baking sheet and season with salt and pepper. Bake for 12 minutes. Set aside to let cool. Keep oven on.
STEP 3: In a large mixing bowl: combine shallots, celery, red bell pepper, parsley, salt, pepper, old bay, lemon juice, beaten egg, mayo, dijon, and breadcrumbs.
STEP 4: When salmon is cool enough to handle, flake with a fork and add to the bowl (stirring to combine well).
STEP 5: With a 1.5-inch cookie scoop, form balls and gently place them on the parchment-lined baking sheet.
STEP 6: Bake for 15-20 minutes until the top becomes golden.
STEP 7: While the salmon cakes bake stir together lemon aioli ingredients and set aside with the serving platter.
STEP 8: Serve the cakes with the lemon aioli and garnish with parsley if desired. Creates 20 - 24 servings depending on size