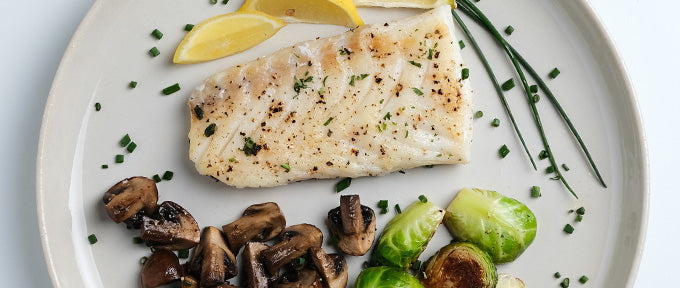 You'll love this Wixter Seafood recipe! It goes together quickly and tastes like a dish from a high-end restaurant. The cremini mushrooms give it a slightly rich flavor you are sure to enjoy. This is a new Wixter Seafood favorite!
INGREDIENTS
2 T Olive oil
½ lb. Cremini mushrooms, quartered
½ lb. Brussels sprouts, trimmed and halved
1 T Chives, minced
1 T Oregano, minced
1 Wixter Seafood Norwegian Cod fillet
Salt and pepper to taste
Lemon wedges, garnish
INSTRUCTIONS
STEP 1: Arrange the Brussels sprouts cut side down in a large skillet. Add the olive oil, cover, and cook for 5 minutes.
STEP 2: Remove the cover and add the cut mushrooms. Stir, adding more olive oil, if necessary, to coat the mushrooms. Season with salt and pepper. Cook for 5-10 minutes until a knife easily pierces the Brussels sprouts.
STEP 3: While the vegetables are cooking, heat a medium skillet over medium heat.
STEP 4: Season one side of the cod with salt and pepper. Place the cod in the skillet, seasoned side down. Season the other side with salt and pepper and half of each herb.
STEP 5: Cook the cod for about 4 minutes on each side until it flakes easily.
STEP 6: Stir the remaining herbs into the vegetables.
STEP 7: Plate the cod, then add the vegetables. Serve with lemon wedges, if desired, and enjoy!